Your wedding dance is a moment to remember and should of course reflect your unique relationship. So, it should reflect not only you, but also your wedding theme. Look below to learn about four themes to determine what you want to convey in your wedding dance
Simple and Sweet:
The simple and sweet dance is perfect for the couple that wants to have a laid back, low-maintenance wedding that is still nicely put together.
Choose a simple song with easy to hear lyrics that has meaning to you that can dance a box step to. You can learn a couple of moves, but not enough to distract from sharing the moment with your family, friends, and partner.
Box step, Rumba, Single Time Swing, Sway Step
Fun and Crazy:
The fun and crazy dance is for all the couples that want to add pizazz to your wedding. It is perfect if you are looking to celebrate and show your fun side!
Choose an upbeat song that everyone will know and can clap to. This dance will have some special choreography and is very enjoyable for the audience to watch. It might be a little more work, but it is well worth it.
East Coast Swing, Single Time Swing, Hustle, Salsa, Cha Cha
Elegant and Fancy:
Perfect for the couple that has gone all out for their wedding and has chosen an elaborate or traditional theme. This couple has chosen to emphasize the value of community and their milestone wedding. 
Choose a song that is more formal or traditional and a recognizable, timeless tune. Singers like Frank Sinatra or Louis Armstrong are perfect for this style of dance because they convey class and elegance. The amount of work you put into this type of dance is directly visible to the audience. So the amount of effort you choose to put in can have fabulous results, but don't expect to be Ginger Rogers in one day!
Foxtrot, Waltz, Rumba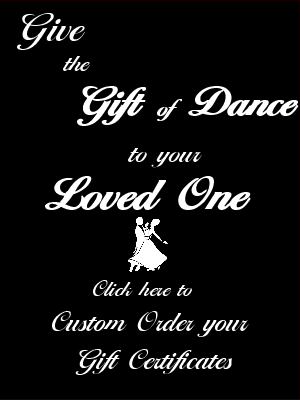 Cozy and Intimate:
Some couples put a lot of work into making their dance engaging for the audience, but some couples want the dance to be just for themselves. Cozy and intimate themes are for the couples who want to share time together while not looking awkward or uncomfortable.
Choose a slower song that has lyrics that are meaningful to you. Be prepared to learn the basics well enough to not think about them, but don't expect to add any performance flair –this is about you and your partner. That being said, make sure you think of a couple of romantic words to say to your partner.
Rumba, Argentine Tango, Sway Step