Finding the right dress for your first or last competition can be one of the most exciting and scary parts of competing. The fabulous, glamorous, and be-dazzling dresses are some of the most prominent features of the ballroom world. While the rhinestones and glamour can be alluring, the most important feature of competition is to look and feel your best. Simple black practice wear with outstanding jewelry can be just as powerful as fluorescent fringe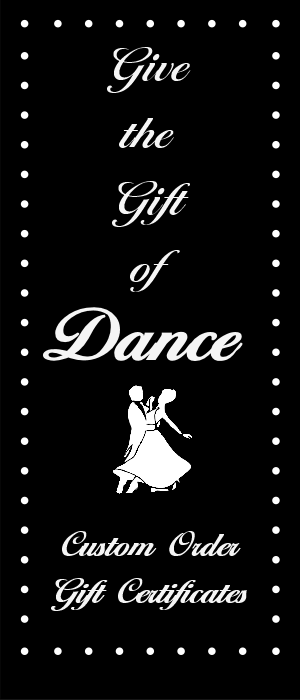 1. Make sure your ballroom dress accents your unique features. Just because a dress looks beautiful on someone else, doesn't mean it was meant for you –in fact many women have those dresses made to their personal measurements. It is important to well… flaunt what you've got! Curves and modesty in the right places are just as flattering as an open back or cut-out sides.
2. Choose the feature of your dancing that you want to highlight! Say you have fabulous Cuban Motion- find a circle skirt or dress with gores that moves as you do your motion. If you have straight legs, find an asymmetrical dress that travels down one leg. Say you've got some spunk- go fluorescent! The right dress will speak volumes about your dancing, as it will compliment your personality on the dance floor.
3. Choose the right size- However tempting it can be to borrow a dress that's too big in certain places or long on the floor- it's not worth it. Inappropriate sizing is the best way for a dance floor faux pas.  Whether it means your partner steps on your dress and it tears, or it rips on the dance floor- choosing the right size will save you money in the long run.
4. The Right Color! While you've tanned before going on the floor, there will probably be tanner women out there. Just because you're five shades darker doesn't mean the pastel teal will draw you the attention you need. Look at the undertones of your skin-they will show even with a tan. If you have warmer undertones, try a deep purple or red. If you have cool undertones, a bright pink or green might look best.
5. Find a dress with the proper amount of breast support. Since many of us ladies are relying on built-in bras, the fact of the matter remains that sometimes we simply don't have enough support. Dancesport is active, meaning that larger busted women might need to have a back to hide their bra, or have their personal one sewn in. Likewise, if a bra is missing inside the dress, it doesn't hurt to add cups to fill the dress out.