Experience: Confidence
Ballroom Dance Experience is happy to provide several options for couples preparing for wedding dances. While our group classes and private lessons can certainly be taken by wedding dancers, we have developed a series of wedding programs designed so that you know what to expect in your lessons if you are getting married. Each program will help dancers to know exactly what they can accomplish for their wedding in a given amount of lessons.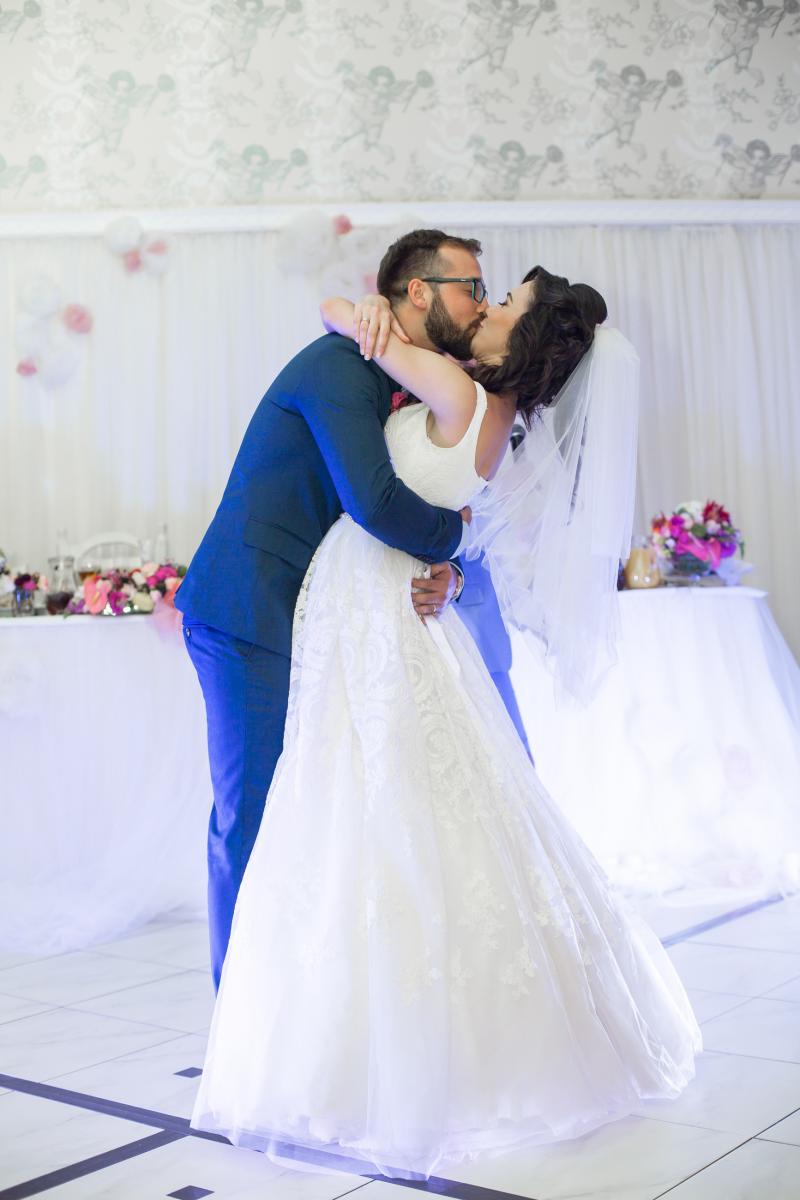 Couple Dancing at their Wedding
Survival Wedding Dance Lessons
The first option is two private lessons and is best for Bride and Groom, Mother-Son, and Father-Daughter Dances. These wedding classes are similar to our Introductory Special for people who are interested in ballroom dance; however, for wedding couples, we guarantee that you will be able to learn a beginning, middle, and end to a song of your choice. Couples will also be able to learn how to walk on and off the dance floor. If desired, the wedding instructor will be able to help couples determine where to place DJs, photographers, or videographers at the reception. This allows couples with a specific dance in mind to survive the night with confidence. We like to say, "you might feel like you know 1% about dance, but you know 99% more than most people." 
Wedding Dance Group Series
Ballroom Dance Experience has developed a special series of wedding dance lessons designed specifically for couples who will be attending a wedding in the upcoming months. Each wedding group dance class series is five weeks long and covers the basics of most wedding dances. Participants will learn the most common wedding fast and slow dances like swing and the box step. They will also be able to learn popular line dances that will ensure they will be able to dance the entire night.  Unlike our group classes, all participants will register as a couple in advance, and couples may take the class as many times as they wish. These classes are great for couples that have a little more time to prepare before their wedding.
Private and Group Combination Wedding Dance Program
Our Private and Group Wedding Dance Program brings together the best of survival wedding dance lessons and the group series. Students will be able to learn the fast and slow dances from either the Wedding Group Dance Series or the Beginner's Drop-in Dance Classes to reinforce these moves in their private lessons. Couples will also have more time to learn new ballroom steps during their private lessons if they take the group series first. If they decide to begin with private lessons first, this will increase the number of dances they can learn to keep them dancing the entire wedding night. Couples most often choose to take the combination program when they have the time because, with more lessons, they can see an increase in grace and confidence on the dance floor. 
---