Experience Growth: Weekly Lessons
More than any other skill or sport, ballroom dancing is social! Part of the experience of learning how to dance is meeting new dancers, developing friends and relationships, and simply having fun. Group dance classes give students the benefits of dancing in a social and relaxed environment. Ballroom Dance Experiences offers a variety of group classes that allow every level of dancer to learn, grow, have fun, and meet new people. All classes are designed to be affordable and social and follow a fun first policy. All classes can be purchased in sets of five or ten, including drop-in classes, however, most people first find our classes through Groupon or Gift Certificates. Classes can be purchased for an individual or as a couple.
Types of Weekly Group Dance Classes
Beginner's Ballroom, Salsa, Swing, and Tango Group Classes- Drop-in
Students Enjoying Beginner's Ballroom Group Class
Our Beginner's Ballroom Group Class actually includes all ballroom dances, including salsa, swing, and tango. These group classes are designed for new students in the Newcomer or Beginning Bronze levels of any syllabi. In other words, if you have never danced before, you are automatically a Newcomer or beginner dancer. If you've taken less than a year's worth of private lessons, group classes, or are simply rusty on your dance moves, you are probably a bronze student.
Since each class is drop-in, there is no need to worry about skipping a lesson or two. In fact, you could come once a month, your group classes will not expire for as long as we are in business. Ballroom Dance Experience limits total number of people in drop-in classes to fifteen couples to ensure that students will still get quality dance instruction. Drop-in classes also allow instructors to determine what is taught on a week-to-week basis, so there is no need to worry about already knowing patterns. Students with special requests, like Tango, Salsa, Swing, or Wedding Dances will learn what they'd like.
Beginner's Ballroom, Salsa, Swing, and Tango Group Classes- Six Week or Seven Week Series Group Class
Learning Tango Steps in an Intermediate Class
Ballroom Dance Experience provides students with the opportunity to learn dance in a six or seven week session. As a result, each series will allow beginner students to learn more in depth as the instructor will be able to adjust to the needs and pace of individual students.
These beginner's ballroom classes are still for Newcomer's and Bronze students, meaning that everyone in the class will be new to ballroom dance. Being able to attend class weekly helps students develop faster. Consistency between classes enables students to retain more complex information and steps for a longer period of time. 
Just like our drop-in dance classes, the serial classes are custom to those in attendence, and include ballroom, salsa, swing, tango, and wedding dances. As these classes build upon information learned in the previous class, students are required to register for the Beginner's Series Group Dance Class. While it is a beginner's class, many students find that they benefit from taking it several times before moving onto the Intermediate Ballroom Dance Class or Formation Dance.
Intermediate Ballroom, Salsa, Swing, and Tango Group Classes- Six Week or Seven Week Series Group Class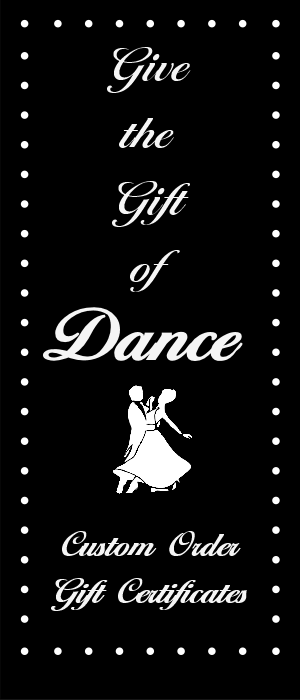 Group Class Gift Certificates
Once students feel comfortable with the Beginner's Classes, most move onto the Intermediate Series Group Classes. These are for students interested in learning Intermediate Bronze, Full Bronze, or Beginning Silver dance steps. More advanced technique such as leading and following, hip movements, and social dance floor navigation techniques is introduced and reinforced in this class.
Similar to the Beginner's Classes, the Intermediate Dance Class content is still chosen by students, but each dance is learned in depth. Most often, each session will be spent on one or two dances before learning two different dances in the next series. As a result many students stay in this class as it is possible to comtinue learning new dances for several years as each session is different. Intermediate dance students continue to enjoy the practice and social benefits of group classes, even if they find themselves taking private lessons. 
For all of the reasons above, it is important to note, that while the class is an Intermediate class, it is far more advanced than the average group class. Even if you have had private lessons, we encourage students interested in this class to meet with an instructor to determine if they are ready for the class.
Formation and Showcase Dance Class Series- Ongoing
One of the more unique classes Ballroom Dance Experience offers is a Formation and Showcase Dance Class. Unlike the Beginner's and Intermediate Class, groups of students choose to meet once a week to learn a choreographed dance they have selected. The dance can be one typically not taught in conventional ballrom classes, such as the Peabody or Samba, or can be a dance that students like to learn more about such as swing or tango. 
Formations and Showcases allow students to advance the quality of their dancing as they are exposed to more in depth information. Repetition of the movements becomes ingrained in body memory and is consequently transfered to other dances. Many students, both who take only group or private, like having the opportunity to learn unique dances in a social environment. It is also good for beginner's who don't feel ready to take the Intermediate class, but want to learn more than is offered in the Beginner's Class.
Each new Formation series starts again about every six months and a new song and choreography is chosen.
Find our Weekly Beginner's Ballroom, Intermediate Ballroom, and Formation Group Class Schedule Here
---

Give the Gift of Dance: Group Ballroom Dance Lessons Make the Perfect Gift for Beginning Dancers.